5 Top Tips for First-Time London Punters
23 March, 2023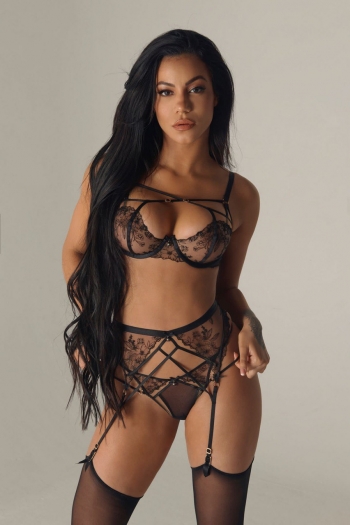 Are you considering booking a London escort but need help determining where to begin? Rachael's London Escort Agency has put together a guide on booking an escort for first-time punters!
Escorts can provide companionship in various ways, from dinner dates to a naughtier experience that satisfies all your kinks and fetishes. Whether you know exactly what you want or are unsure of the service you wish to book, we have compiled 5 top tips for securing your first escort!
Familiarise Yourself with Our Services
We aim to cater to various diverse needs at Rachael's, which is why our London escorts cover the depth and breadth of intimate services. For example, instead of only having a gallery of domination escorts, our category drop-down also displays escorts who specialise in tie and tease or spanking.
Mistress Paola delivers an elite domination service with all the toys and nuances that make this service so popular. If it is your first time trying a particular kink or fetish, an escort as professional and knowledgeable as Paola is the perfect option to put you at ease while ensuring you have a pleasurable time.
The same can be said of our other services, from a body-to-body massage to party girl escorts. Each escort is a genuine professional checked and vetted by our team to ensure they are both safe and an expert at the service they provide.
We advise you to browse through specific service galleries and choose an escort this way so the girl you book can fulfil your every desire. That way, you have a beautiful model and the experience you have always fantasised about!
Incall or Outcall?
Once you have determined what you want from your experience, you must decide whether you want an incall or outcall service. This is also known as her place or yours? Incall is often less expensive as you travel to an escort's apartment, but not all girls provide this service.
Outcall escorts may be £50 more expensive due to their travel costs; however, you can enjoy the convenience of them coming to you, whether it's a hotel or your place!
Locations We Cover
There is no point in booking an escort and finding out later on that you must travel a million miles away to meet her! This is why our escorts are sorted by location so that you can find a girl close to you.
If you are looking for a high-class experience in Chelsea, Aurora is the perfect escort nearby that can come to you, or you can visit her place. Either way, neither of you won't have to travel far to be together, and you can both focus on what is essential. Making each other feel good!
Whether you are looking for escorts in Chelsea or around Heathrow Airport, allow your escort booking experience to be as easy as possible by filtering through location!
Escort Etiquette: Do's and Don'ts
Arriving at your meet-up with the right attitude is crucial to making your experience with an escort comfortable and enjoyable. This is why we like to inform our potential clients of the do's and don'ts when meeting an escort in London.
These are listed to ensure you do not overstep a boundary with an escort so that you can enjoy the pleasurable experience. Failing to adopt proper manners with an escort may lead to her turning you down or even being blacklisted by our agency in future.
Do
This includes not asking personal questions or abusing or expecting more services than you booked.
Be prepared for your experience.
Whether this is researching the service beforehand, bringing the necessary precautions and having the correct payment method, preparation will help you enjoy your experience.
Dressing presentable and being freshly showered will add to the escorts' enjoyment. Present yourself as you wish others to look, as a lack of hygiene may lead to an escort turning you away.
Don't
Whilst all of our London escorts aim to be warm and friendly, you must remember you are only part of her professional life. Therefore, we advise not crossing boundaries, such as asking personal questions, as it may make her uncomfortable.
Suppose you have booked a particular service, such as a dinner date for an hour. In that case, you cannot expect more intimate services for free afterwards. It is insulting to assume you can have sensual benefits for free. If you seek something extra, include it in your booking or ask for an extra hour and pay at the agreed-upon rate.
Turning up under the influence of drugs or alcohol is forbidden, especially as it can make your behaviour unpredictable and make an escort uncomfortable.
Feel you are entitled to an escort's free time
With a service as intimate and believable as a girlfriend experience, you must understand the difference between fantasy and reality. An escort throws herself into the fantasy and enjoys that aspect of the service during the booking.
However, in her free time, you are NOT entitled to any of the benefits of this service, and it cannot be mistaken for a real relationship. Additionally, do not attempt to follow an escort home, even if you are only being considerate by offering to walk her home.
How much does a London escort cost?
How much an escort costs depends on the girl herself! We offer a range of prices to suit the differing needs of our clients at Rachael's, with affordable escorts starting at £150 an hour and high-class escorts from £300.
To see an escort's complete list of rates, click on her profile to discover how much she charges for an hour or overnight stay. Escorts like Beau charge extras for services such as couples or watersports, so be sure to check this before booking.
Now You're Ready to Book!
Hopefully, you have all the information to book an escort. To make your fantasy a reality contact us at 02034106363 and discuss your booking with a Rachael's receptionist.
Our team speaks English, so if you have any questions about booking a London escort, we are more than happy to help. So what are you waiting for? A memorable evening with an escort awaits!