An interview with a escort
09 February, 2023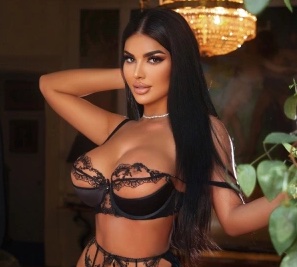 So many people have asked us to do this, it seems that so many people are really fascinated in what goes into being an escort so we thought that we would give you a real-life glimpse into the world of being a high-class call girl!
For this article we thought it best to interview one of the most popular ladies at our agency, she is also amazing at what she does and really is an interesting lady, Haifa is very outgoing and fun but also has a great personality which comes across as soon as you meet her. It also helps that Haifa is one of the hottest escorts in London at the moment – being the owner of amazing boobs and an arse that would blow you mind
What country are you from?
I come from Romania in Eastern Europe.
How long have you been escorting for?
In London for about 5 years now.
Have you always worked here in London?
London is the best city in the world and the only place that I would want to work in and live!
Do you like living here in London?
Of course, I do baby! I have everything that I want here within a 5-minute walk, the best bars, the best restaurants, amazing clubs and open green spaces!
What other jobs have you had?
I trained as a beautician who also did hair and make-up and built quite a successful business back home doing that.
Who introduced you to escorting?
My best friend, who is also on this site, she came to London 1st, I came to visit, I couldn't belive the money she was making and the lifestyle that she had! I wanted to have it as well.
Do you like what you do?
Come on James, you know that I don't like it……… I fucking love it!!!!!!
Can you remember your 1st ever client?
Nope, not at all (Haifa smiles).
Are you friends with many of the other escorts at the agency?
I am friends with many of the other escorts in London, so many of us know each other from home, so many of us have got to know each other through work. We are all very friendly and enjoy each other's company, James you have seen the photos of our nights out, you know we are all very very good friends!
Do you get taken on holiday much?
I was booked as a travel companion a few times a little while ago, myself and this lovely gent went away to Dubai, we sat on a beach for 2 weeks and had the most amazing time, we dressed up at night and once our evening was finished, we really dressed up! It was astonishing.
Do you get taken out by clients for dinner?
All the time, people love to spend time with me, I think its because I talk to them about them, I am very fascinated to hear about other people's lives and experiences.
What your favourite restaurant that you've been taken to?
This is going to sound sooooooooo cliché, but I just love the food and the atmosphere at Zuma.
Where do you buy your sexy lingerie from?
Anywhere! Primark, Ann Summers, Agent Provocateur, La Perla! With a figure like mine any lingerie is sexy!
Are all your clients male?
I have a mixture of men and couples, that's a man and a woman, I don't see two men at a time!
Do you have many regulars?
Loads, people just come back to me again and again, thank you for that James (it's not me, it's Rachael and the reception team who sort that 😊 )
What's the strangest request that you've ever had?
One guy asked me to go to the gym, who would pay me to do so, work out but wear my trainers with no socks, when I got home, he didn't want me to wash them and he would arrive to "look after" my feet!
Do you enjoy sex?
What a stupid question! Doesn't every woman? We are all humans and it's in our nature! You should know.
Have you ever had a threesome?
All the time and I love them! I can't wait for you and Rachael to book me :-) !!!!!
Are you really true to your profile?
Very!
What's the process of a normal booking for you?
Mostly incalls, when the client arrives, I will direct him to the shower – it's the best way to start, then we just leave it up to nature and chemistry.
What's the most popular outfit request you get?
For me it's a sexy secretary – I did a photo shoot once dressed only in that outfit and it brought in so much work!
What's your perfect night out?
Any night with you James!
Where is your favourite holiday destination?
A beach, with beautiful blue sky and the waves lapping at my feet.
Do you find any part of what you do difficult?
Turning people away because I am so busy.
Do you ever feel judge about what you do?
No, why would people want to judge me? I am not hurting anyone. In fact, I make people feel better about themselves! There's a lot more smiles when people leave me to when they arrive.
What makes you so good at what you do?
Just me babe, just me!
We hope that you liked that brief interview with Haifa, it had to be quite as she had a towel wrapped around her waist and was getting ready to head off for an outcall, of course arranged by Racahel.
If you have any questions that you would like us to ask any of the escort, then please do feel free to spend them into the reception team who will pass them on.
This makes for very good reading and gives you a great insight into the girls that you get to meet via this escort agency!