Escorts with great figures
24 June, 2021
Escorts with great bodies are in high demand, with the popularity of selfies and videos on the rise people are really getting the chance to check out the ladies that they wish to spend some time with and one of the number one requests that we are ask here at Rachaels is "how good is her body?"
I myself love a lady with a great figure, I love the figures of the girls who really work out, I like too see a tiny bit of muscle, that's my thing, you may have your but you are safe in the knowledge that at our escort agency we have a very wide range of body shapes and sizes to suit all your needs and desires.
The ladies with great figures – in my opinion.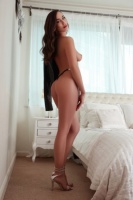 Rowan showing off her sexy figure
To me Rowan has to top the list, when I visited her just the other day she was getting ready to go on an outcall and it was just my luck to see her in her underwear. Rowan is not in the less bit shy and loves to show off what she has got.
Rowan had on a very small white thong – one guy was going to be a very happy man!! And a white bra, her boobs are not massive – she is not one of the busty escorts at our London agency, but her shape is out of this world.
As I was leaving, we had a coffee together, please remember that we are really close to the escorts we work for, I ask her to do a video, if you check out Rowan's profile then you will see just what I mean by a great figure!! She is a knockout and still one of the best escorts listed at our agency.
Based over in Paddington is Sunny, you all know that Sunny is a strong favourite here at this agency not only because everyone leaves her with a massive smile on their faces – unless they have asked to be whipped – naughty boys!!!!
Sunny is very young, she is in her early twenties so have that youth gen on her side, but this sexy brunette escort works had to ensure that she is keeping this great figure. Again, check out Sunny's profile, you will see a few selfies and she is always updating her videos – showing off her lovely boobs and very sexy arse! I wonder if we should add "London's sexiest arses" to our categories? Do you think that it would get much traffic?
Come on what about the blonde escorts with great figures?
There's load of them and I was just getting to that, but I'll keep it simple and only list two – you can of course head over to our blonde London escorts gallery to see loads more – pick whoever takes your fancy and call the reception team for more info.
Teagan is a babe, she is so popular, you all know that, and you al will know how much we love her. Her figure is tight, she has the tiniest of boobs but just look at how good they look in the selfie she has posted in the mesh bra. Now it doesn't matter if you are a boob man or not you have got to say that Teagan is without a doubt an escort with a smoking body! She has been based over in Earls Court while some work is done on her apartment in the Baker Street / Marylebone area but will be back there very soon.
Now to someone a little bit different, Caprice, who is a little larger than most of the ladies listed and by larger, I mean that she is a size 10 /12 and not an 8 – its terrible that we would call that larger but hey that's the day and age we live in!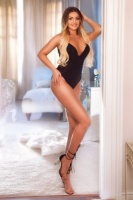 Caprice is based in Earls Court
Caprice has a great figure, and everything is where it should be, great arse, lovely natural boobs and you would suck on all night if that was your pleasure. Long legs and a beautiful back! Yes back!
Caprice is available for incalls and outcalls, she has been with us for some time but took some time off while COVID shut down London – don't get me started with that one! And is not back with a bang.
How do you choose?
I know, it's a question that the reception team get ask all the time and one that we cannot give you a straight answer, so many of the girls have so many different abilities! Its just really what takes your fancy at that time.
Some girls whom we think may "float your boat" don't and visa versa but rest assure that whatever shape or size ofd lady you are looking for they can be found listed in our galleries.
Making a booking.
Just to ensure you know what you are doing, if you wish to book any of the London escorts mentioned in this blog about "escorts with great figures" all that you need to do is contact us. We are open 7 days a week from early until late, you can call, text, WhatsApp or email and one of our very friendly team will make your fantasies become your wet dreams