Find out more about roleplay with an escort
28 October, 2021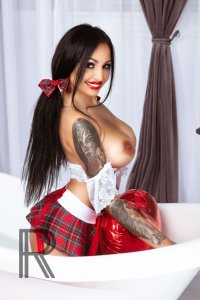 The Outfits That Clients Most Like The Girls To Wear During Roleplay
You are sure to know that roleplaying is hugely popular and many clients get their fix with an escort. However, with so many uniforms and outfits to choose from, it's hard to know where to begin. This is why we have taken a look at the outfits our clients most like the girls to wear during roleplay.
Our Clients Most Popular Roleplay Outfits
● Sexy Secretary - It's a tale as old as time, but there is no getting away from the fact that a secretary is sexy and appealing. A secretary is usually professional and off limits, but an escort is the exact opposite – she is very "on limits". Therefore, a lot of clients like the girls to wear a sexy secretary outfit during roleplay, it allows them to fulfil a sexual fantasy with someone who they would never usually be able to share intimate time with. Luckily, finding one of our girls who has a sexy secretary uniform is relatively easy as it's a popular outfit that many clients request.
● Police Officer - Many of our clients like to feel badly behaved in the bedroom and that calls for a police officer to discipline them; someone to put them in their place, punish them for their behavior and show them who's boss. A lot of clients like the girls to wear a sexy police officer's uniform and, at Rachael's Escort Agency, we can see why. There is something sexy about being told off and dominated by a stunning lady. Many of our escorts have a police officer's uniform and they are more than happy to dress up, role play and take control.
● Naughty School Girl - When a lot of people think of dressing up and roleplaying in the bedroom, the first thing they think of is a naughty schoolgirl outfit. This is because a naughty schoolgirl is one of the most popular outfits requested by clients, and it's a uniform that a lot of escorts offer. There is something innocent and cute, yet extremely sexy and sensual, about an escort dressing up as a school girl in the bedroom. At Rachaels', you will notice that a lot of our beautiful escorts offer a naughty school girl service and you won't be short of choice.
● Sexy Nurse - When it comes to being taken care of to the fullest, you can't go wrong with a nurse and during role play with an escort that means a sexy, sultry, and stunning nurse. Many of our clients come to our agency wanting a beautiful woman to take care of them, and who better to do that than a nurse? Asking an escort to wear a nurse's uniform during roleplay is the ideal way to sit back, relax and have a caring woman look after you.
● French Maid - Ooh la, la! There are a lot of clients that like the girls to wear a French maid's outfit during roleplay. It's a fantastic way to create a dominant and submissive relationship between two characters, with the French maid wanting to satisfy a client's every need. A lot of clients ask for one of our ladies to wear a French's maid outfit as it adds an air of mystery and sex appeal.
Which Of Our Ladies Like to Dress Up?
At Rachaels', we have a number of girls who love dressing up and roleplaying with clients. Regardless of the type of roleplay that you are looking for, you are sure to find a beautiful woman who is ready to do just that. To help you narrow down your options, we have highlighted some of our top London escorts who like to dress up, roleplay and fulfil client fantasies.
Pacha - If you are desperate for a fun evening with a sexy secretary, look no further than our beautiful Pacha. You only have to look at a photograph of Pacha to see what all the fuss is about. Her gorgeous green eyes grab you immediately and her perfect bust is completely natural.
Jessica - For Jessica, dressing up and roleplaying is one of the best things about being an escort. It doesn't matter if you are in the mood for a police officer, a naughty schoolgirl, a sexy nurse or a French maid as Jessica has an outfit for them all. She is petite, brunette and has breasts you won't be able to take your eyes off.
Adele - There is no denying that Adele is a natural beauty, which is what makes her a popular escort in London. However, she's not as sweet and innocent as she may look. Adele loves to roleplay by dressing up as a naughty nurse or a police officer, and she's got a tonne of latex if that is what you're into.
Jade - Jade is young, beautiful, and slim making her a fantastic choice if you like your women to be a little on the slimmer side. Saying that, she has a fantastic bum and knows how to rock a uniform. Jade is ready to put on a sexy school girl or a naughty nurse uniform whenever you are ready; she is ready to show you how much fun roleplaying can be.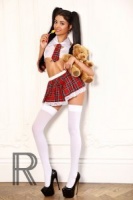 Jade looks amazing in this naughty schoolgirl outfit
Fancy An Escort to Roleplay with?
If you are looking for an escort to roleplay within London, you have come to the right place. At our escort agency, you will find a range of unbeatable escorts who boast an impressive collection of uniforms for roleplaying. Whether you want to experience an intimate evening with a sexy secretary or you want to have some fun with a naughty schoolgirl, we have a number of incredible girls for you to enjoy. All you need to do is browse our escort profiles, select the girl that ticks every box, and make a booking. You will be enjoying a roleplay session with a stunning woman in no time at all. Rachael's London Escorts is the ideal place to explore your roleplaying fantasies.