How Much Are Escorts In London?
08 March, 2023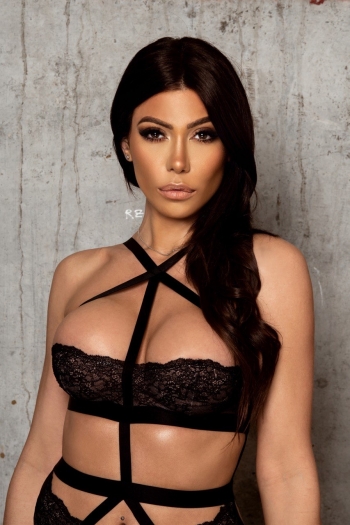 £150? £650/£700? What do all of these prices mean?! Well, Rachael's London escort agency is here to help and take you through the different prices for escorts in London!
If you browse our gallery of gorgeous London escorts, you will see two prices underneath each model. For example, blonde babe Bianca has the hourly rate of £150/£200 displayed, the former for her incall prices and the latter for outcall.
Click on her profile to find a complete list of escorts' rates. You can learn more about escorts like Bianca on her profile, including some sexy extra photos, her hourly rates, overnight services and if she charges for extras!
Incall or Outcall Service
As mentioned, most of our escorts provide both an incall and outcall service. Incall means you can visit a companion in her home, and it is often £50 cheaper. On the other hand, outcall is when she comes to your home, hotel or wherever you are in London, which is more expensive due to her travel costs.
Beauty and Glory offer these two services with their incall being £200 and outcall £250! Some escorts do not offer incalls, so check before booking! We have an incall escorts and an outcall escorts gallery, separate so you can easily find the girl who provides the service you prefer!
Ordinary Escorts vs High-Class Escorts
Usually, the more expensive escorts are part of our high-class escort gallery, a type we are proud to provide at Rachael's. High-class escort rates start at £250, going up to £800 an hour compared to more standard hourly rates ordinary escorts have of £150.
Whilst all of our escorts provide a quality service, high-class escorts have that extra special touch that makes them desirable. Escorts like Maelle are not just gorgeous models but also possess intelligence and engaging conversation that elevates their service.
Her ability to explore her own and her clients' open-mindedness makes her such a popular choice. Who wouldn't want this stunning lady on their arm to flirt with all evening, leading to an intimate encounter afterwards that will take you out of this world?
Or do you see yourself with playboy model Sophie Laurrent? For £800 an hour, she offers a high-class service that will make all your friends jealous, showing that paying more for an adult professional is worth it for the pleasure!
Extra, Extra!
On top of their hourly rates, some escorts may charge extra for a particular service! Clary, our busty escort in Bayswater, offers unique extras for her clients to enjoy that cost a little more. For example, she charges £150 extra for a bi duo, or WS an extra £50. So before you book a girl and expect a particular service, read an escort's description to know what she charges extra for!
How to Book a London Escort
Now you understand our rates and hopefully our girls a little better, why not book?! Contact our friendly team on 02034106363 to arrange your booking with the escort of your dreams! A pleasurable evening of excitement awaits!