The most booked escorts at our agency
It's been sometime since I wrote a blog on here, we have been so busy on the phones which has caused a major distraction for me, things are now calming down and I have been able to take a breath – you will be speaking to a new member of our reception team whose joining us have allowed me to do this, Danielle works the weekend shift and is just as good as me at arranging your time with the escort you wish to see.
So, what is this first blog back about? Well, I thought I would share with you not my favourites ladies but which of the girls on our London escort gallery are booked the most by you, real first world info here chaps to help you pick, make up your mind or push you in the right direction.
Bia – to be Frank I am as shocked as you, she would hardly be my first choice but who am I?? This sexy blonde is smashing it, repeat bookings after repeat bookings from a number of gentlemen has pushed this beauty into the number one spot of "London's Most Booked Escort".
Don't get me wrong Bia is very beautiful and has a killer body but it's her attitude that keeps you guys returning again and again, it's her eagerness to please that you all seem to like and why she is leaps and bounds ahead of the next lady.
Based in Marylebone for incalls – these start at just £150, Bias apartment is lovely, its very easy to find and has parking very close by – always a bonus!
Bia loves to dress up, I am told by a very reliable source that they have never seen a arse that looks so peachy!!! That is a compliment indeed and one that make Bia smile.
Its very simple to book this stunning blonde escort and just like anyone else all that's needed is for you to pick up the phone!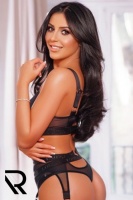 Aylin- is this a surprise really? Without a doubt Aylin is one of the utmost attractive London escorts, she is willing to please, she looks after herself like no other – hair, nails and gym are the top of her priority list, she also eats very well and has beautiful teeth – I have a thing for teeth and find that a man with a nice set of nashers is one of my greatest turn-ons.
Based in Gloucester Road, her flat is out of this world, it's like something you would see in a film better than any of the Sex In The City ladies have.
Aylin can be booked day or night; she is a great escort to have on your arm walking into a nice restaurant or chilling at home and watching some tv.
Aylin has invested heavily in herself and in your fun, which again should really push her to the top of the list of escorts that you wish to see.
Dolita – it's funny what a nice break can do and what a new set of pictures can say about so many of our young ladies.
Dolita took a well-earned break from escorting at the end of last year and has returned to London with a new attitude and a brand-new set of photos, you will pleased to see that along with her professional pictures she has also added some very sexy selfies and a red hot video!!! The result? The phone doesn't stop ringing for her!! Incalls and outcalls this sexy brunette puts so much effort into what she does (now) you can't help but see why this has paid off.
Dolita works hard for the reviews you guys leave on her profile and she deserves every last one!!! This fiery brunette has some tricks up her sleeve – well hidden in her thong and that's why she is on this list.
Amy – she's been around for years, based in Warren Street and has a lot of repeat bookings due to her time in the capital, there's been a lot of hard work go into her making it onto this list and to be fair she isn't everyone's "cup O tea" but those that like her love her and that's why its so hard to get a slot with the lovely Amy.
Her apartment is a mere 5 minute's walk from the tube station, she does both incalls and outcalls – although most are incalls, she has a basic set of likes, her boobs are a nice size – remember chaps "more than a handful is a waste", Amy duos with her lifelong friend Andra and these two babes have melted many a heart!