The Perfect Escorts To See If You Fancy A Party
17 February, 2022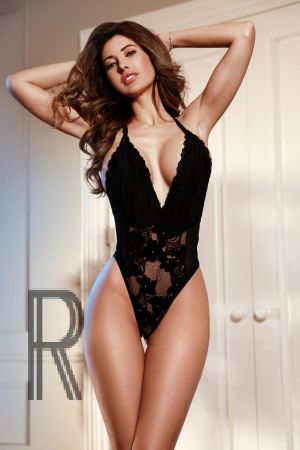 If you are in the mood for a party, you have come to the right place.
There is nothing quite like partying with a beautiful woman, which is where our stunning escorts come in. Instead of partying alone or going without because you can't find someone to join you, you can rely on the company of a sexy stunner from Rachael's.
What's So Great About Partying With a Sexy Lady?
They Enjoy Having a Drink - Partying with a sexy lady means sipping delicious drinks - whether that be a cocktail, a beer or something a little stronger - and feeling yourself relax. Though it's possible to party hard without having a drink, nobody wants to drink alone. Whichever escort you choose, you can do so knowing she will happily cheers with you over an alcoholic beverage. Who knows, maybe she'll bring the shots out.
They Love to Dance - Regardless of whether you have two left feet or you consider yourself to be a dancing pro, you can hit the dancefloor with one of our ladies. Check out their sexy moves, dance up close to them and let the music take you away. Partying with a sexy lady always means having the opportunity to dance, which means you can show off the gorgeous woman on your arm to everyone else.
They're Friendly and Talkative - There is no denying that partying goes hand in hand with being friendly, talkative and energetic. These are three qualities that you can expect from any of our party escorts. You can choose any of our companions, knowing that they are going to be ready to talk to you well into the night. There is no need to worry about awkward silences and dull conversation, not when our perfect escorts are around. After all, they are the ones who know how to throw a good party.
They Have Lovely Apartments - If there is one thing that an escort loves, it's having a gorgeous and stylish apartment. When you fancy a party, you can head to one of our escorts' impressive apartments and enjoy letting loose, having fun and enjoying yourself. These are large, modern and chic apartments with everything you could need for an evening of fun with a sexy lady. You don't need to go out to have a good time, not if you would rather visit an escort as an incall booking.
They're Always Ready for a Good Time - If you are someone who enjoys going out and having a good time, you are probably looking for an escort who can join you. This is why we recommend choosing one of our gorgeous girls, as so many of them like partying. Whether you are looking to hit the club or hang out at a fancy bar, you won't be disappointed in the company of a stunning escort. From the moment they arrive, these girls are ready for a good time.
Our Most Popular Party Escorts
Medeea - There is something about Medeea that grabs your attention, and you certainly won't be disappointed. She loves hitting the dancefloor and having a drink just as much as she loves romantic dinners and bars. Medeea really is a fantastic woman to spend time with, as she's always happy to go along with your plan.
Blair - If you are looking for the ultimate party girl to hang out with, Blair is the woman for you. She is sexy, stunning and she's always up for a good time. She'll be there to party with you into the early hours, before leading you to the bedroom and showing you why she is one of our top escorts.
Rowan - You only have to spend a minute or two with Rowan to see why she is at the top of everyone's list. As far as escorts in London go, Rowan does it all. She'll treat you to a lapdance or a striptease, before showing you just how much fun an escort can be.
Shanel - Without a shadow of a doubt, Shanel is an escort that you won't be forgetting any time soon. She's always ready to drink and dance the night away, which makes her the ideal company for a night on the town.
Sacha - Sacha is a truly stunning woman; from her long and toned legs to her gorgeous curves, it's no wonder Sacha has men beginning for more. She likes to let loose and have fun, but she also likes to enjoy passionate sessions in the bedroom. When you choose Sacha, you are choosing a girl who is sure to impress.
Aly - If you are looking for a fun, flirty and energetic babe to spend an evening with, Aly is the woman for you. She's everything you could want in an escort; she's there to have a drink and have a party, but she's also there to ensure you end your evening satisfied.
Jordyn - Jordyn is unlike any other escort, which is why she stands out as being someone you won't forget any time soon. One evening with Jordyn will have you wanting more. You won't want the party to end, but you'll be desperate to see what she looks like out of her sexy lingerie.
Party With a London Escort
At Rachael's London Escorts, you will find a whole host of beautiful women who are ready and waiting to party with you. Though there are escorts for everyone, our party escorts really do stand out as being something special. These are the ideal women to spend an evening with if you are looking for a fun, lively and enjoyable time. All you need to do is browse our selection of gorgeous girls, choose your favourite - perhaps you will choose Blair or Rowan, or maybe Aly or Jordyn - and arrange your date. You are sure to have an unbeatable time, it's why Rachael's London Escorts is the 'go to' agency for customers around the city.