Top 5 London Escorts for your Stag Do
09 March, 2023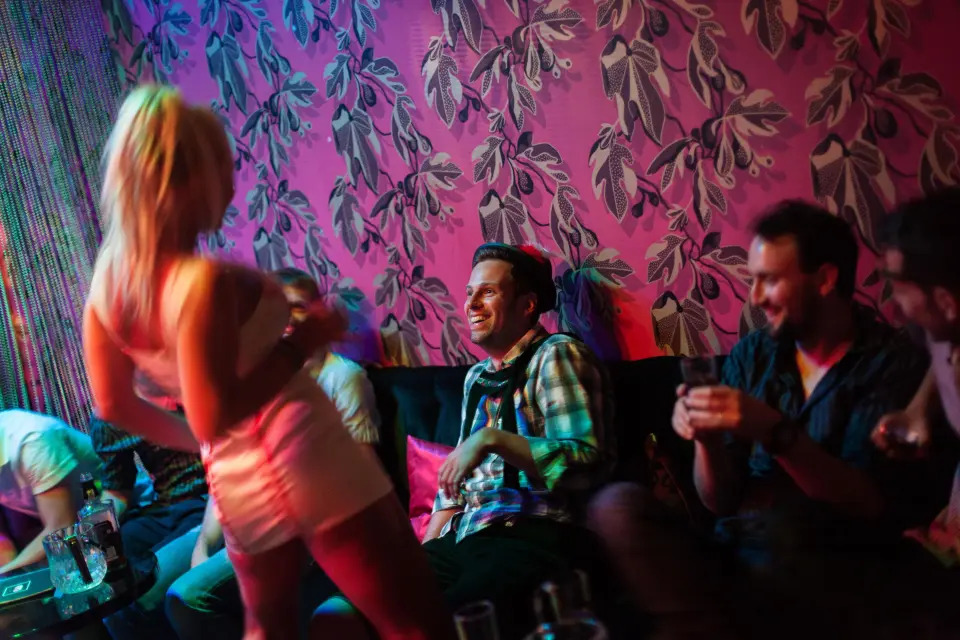 Admit it! A stag without a stripper or an escort is pointless! What better way to celebrate your mate's last night of freedom than with a gorgeous girl showing you all a good time!
It is difficult to capture the attention of a room full of men, but our escorts manage to do it effortlessly. Not only do we have the perfect girl for your event, but we also have a few ideas of how to spice up your stag to ensure you will remember it forever!
Stripping Escorts
Strippers and stags go hand in hand! Why go to a strip club when you can have a private show with one of our stripping escorts? Rowan loves to give lapdances and strip teases, knowing how to get a crowd going while still making you feel like the only man in the world.
I bet you already can't wait to see what is underneath that gorgeous lingerie just from looking at her. Starting at £350 an hour, she's the perfect treat for any stag, so don't miss your chance to book for the evening!
Party Escorts
A party girl escort will certainly liven things up for a stag seeking thrills and excitement! Demi will take you to all of London's hottest spots to party all night, perhaps slipping in some sensual surprises along the way if you ask nicely when booking.
Demi is as gorgeous in real life as she looks in her photos, so you know you are getting the real deal with this party girl! For flirtation, fun and memories that will stay with you forever, invite this beauty to join your stag party for the night!
Roleplay Escorts
Let your imagination run away with one of our roleplay escorts! The perfect way to make your stag original is to have one of our London escorts indulge in a roleplay fantasy. Whether the groom has always fantasised about a sexy nurse or strict teacher, our girls will get your pulses going with their seductive roleplays!
Why not get Edwina to enact a stranger fantasy? Have her come up to the stag in a bar and flirt with him, making him all hot and flustered, not knowing what to do with himself! Edwina is the perfect girl for any occasion, especially this, with her full lips and gorgeous brown hair. This natural beauty will make him feel like the luckiest guy in the world!
Uniform Escorts
Who doesn't love a lady in a uniform? Especially at a stag do! Whatever gets you going, whether a sexy nurse, a filthy French maid or a woman in tight latex, we have a variety of uniform escorts like Devon, who loves dressing up to impress you!
This exotic lady is a glamour model giving your stag that touch of class, but she also knows how to have fun. She'll mix her uniforms with roleplay, specialising in a strict headteacher and giving all you naughty boys the telling-off you deserve!
Duo Escorts
What's more exciting for your stag? One escort? Or two! Our duo escorts are double the fun and pleasure if you want a naughty addition to your night out!
Glory and Jessica are the perfect options for an exotic duo, dark hair and tanned skin galore! It's up to you what you want them to do, and we are sure your imagination will be able to handle these bobby dazzlers! To hire Glory and Jessica, their hourly rates start at £500, making finding someone from a duo gallery more cost-effective than choosing two different escorts!
Alternatively, if big boobs, bum and curves are your thing, the sumptuous duo of Andra and Julia will get you going! These two know how to have fun, sure to liven up your night!
Booking with Rachael's is Easy!
What are you waiting for? Book an escort in advance for your stag do so you get the best experience possible in London. To find out the other services and rates your chosen girl provides, click on her profile to find all the vital information you need!
You can fill in our online booking form or call us on 02034106363 to make your booking, and be sure to mention it is for a stag do, and we'll see if we can do anything special for you!