What Could You and Your Escort Get Up To?
29 September, 2022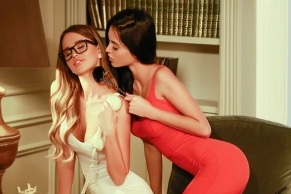 It's always great to spend a night with an escort, but surely a naughty weekend away is much more fun? You can book a naughty weekend away with any of our stunning ladies, knowing that you are in for a good time. To get your creative juices flowing and to inspire you, we have listed some of the top things you and your lady can do when you're away.
Things to Do on a Sexy Weekend Away With an Escort
There are a lot of things to do on a naughty weekend away with an escort, so you won't find yourself bored or short of things to do. If anything, you might regret not booking to stay away for longer.
● Enjoy a Romantic Dinner - If you can tempt yourself away from the bedroom, consider heading out to a restaurant and enjoying a romantic dinner together. A lot of people make the mistake of assuming that a naughty weekend away means spending all of your time in the bedroom, and though this is always an option, it doesn't mean you can't venture elsewhere. A romantic dinner is the ideal way to get to know your escort a little bit better; you can connect over a love of food, share intimate details of your life and enjoy flirting. Once you make it back to your accommodation, you will be desperate to rip each other's clothes off.
● Play Sex Games - There is no better time to play some sexy games than on a naughty weekend away. After all, isn't that the entire point? You have the time, freedom and flexibility to really spend intimate time with your escort. You could experiment with toys, tease each other and even tie each other up. You could play strip poker, ask for a lap dance or work your way through the top sex games found online. The world really is your oyster when it comes to sex games.
● Explore the Local Area - If you are staying in an area with lots to see and do, consider exploring the local area with your escort. Not only does this give you the chance to show off the beautiful woman who you are spending your weekend with, but it's a great way to really make the most of people somewhere new. Though the naughty side of your weekend will take place behind closed doors, there is nothing stopping you organising a fun activity for the two of you.
● Try Out New Fetishes and Fantasies - A naughty weekend away is the perfect time to try out new fetishes, fantasies and kinks. You are both bound to be feeling in the mood for some fun, and being away from home can help you to loosen up. Let your guard down and embrace your experimental side. Of course, make sure to pack any props or toys you will need for what you have in mind. All of our escorts are more than happy to try something new, so don't be shy.
● Role Play - If there is a role play that you have been wanting to try for a while, a naughty weekend away provides the ideal time for you to get stuck in. A lot of our gorgeous escorts have outfits and uniforms for you to enjoy, so you won't be short of choice. Schoolgirls, nurses, police women and sexy secretaries are all popular. If you have a specific role play in mind, let your escrt know and we're sure she will happily accommodate that. Role playing gives you the chance to try something new in the bedroom, something that you might not have experienced before.
Naughty Weekends Away at Rachael's London Escorts
At Rachael's London Escorts, we have a whole host of gorgeous escorts who are ready and waiting to join you on a weekend away. There is no need to travel alone, not when you could have a gorgeous woman beside you. Whether you are travelling for work - perhaps you are a businessman heading off to secure a new deal - or you are travelling for leisure, you won't be short of beautiful babes to choose from. In fact, you might even be spoiled for choice. To find out more about any of our escorts in London, and to find someone to accompany you on a sexy weekend away, browse our gallery. The sooner you browse the Rachael's London Escorts gallery, the sooner you will find your dream woman.