Why Are Big Breasted Escorts So Popular?
18 June, 2022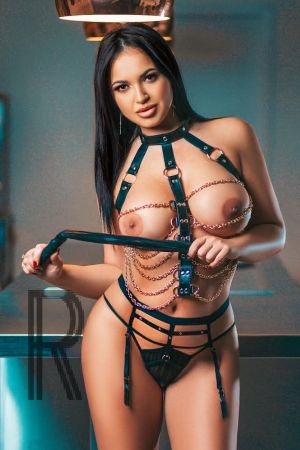 There are a lot of different escorts out there, and there really is something for everyone. For a lot of men it's big breasted escorts that they are drawn to, but why is that? There are a lot of reasons as to why big breasted escorts are so popular, some of which we have detailed below. At Rachael's London Escorts, we have certainly seen an increase in the popularity of escorts with big boobs in recent years. They have always been popular but now, they are more popular than ever.
Why Do Men Love Busty Women?
● There's More to Play With - There is no denying that, when it comes to being with a woman, it's often a case of more fun being had when there's more to play with - and that's exactly what bigger busted women offer. When an escort has big breasts, you have a lot more of her to enjoy in the bedroom. Instead of being limited to a small handful or less, you will have much more. You won't find yourself short of bust.
● It Fulfils a Certain Kink or Fantasy - If you are someone who has a preference for busty women, why would you choose anything other than a busty escort? Not only are you getting exactly what you like in a woman, but you get to fulfil any kinks or fantasies that you might have. Everyone likes something different sexually and for many people, big breasts are a major turn on. By choosing a busty woman, you can fulfil that desire.
● It's Different to the Average Women Out There - There are a lot of women out there, but a busty escort is slightly different to what you are probably used to. Our escorts stand out as being something special, and it's their busty bodies that really help to do that. Instead of settling for a woman with a standard sized chest, you can treat yourself to something a little bit different.
● Big Boobs Are Womanly and Feminine - A lot of men like their women to be feminine and womanly, and that's exactly the look that larger breasts create. There's something especially arousing and intimate about being with a woman who has larger breasts. Not only does it fulfil a lot of schoolboy fantasies, but it's also the epitome of being with an escort who is extremely womanly. This isn't something that you get in the same way when you're intimate with someone who has smaller breasts.
Real Boobs vs. Fake Boobs - What's The Difference?
There's not a lot of difference between real boobs and fake boobs, and you will find escorts at Rachael's London Escorts with both. Some of our escorts are lucky enough to have naturally large boobs, whereas others have paid to have theirs cosmetically enhanced. Whichever you end up with, you certainly won't be disappointed.
More often than not, you can't tell the difference between real boobs and fake boobs simply by looking at a woman in clothing or lingerie. They look similar and equally impressive, alluring and enticing. However, there might be some telltale signs when she strips off. Fake boobs tend to remain lifted and 'in place' when they are not in a bra, and gravity doesn't have too much of an effect on them. They also might appear fuller and rounder than natural breasts. Real boobs tend to move around a little bit more when they aren't being supported by lingerie, and they have a much more natural movement to them.
There are men who prefer fake boobs and men who prefer real boobs, and those who are equally happy with both. Whatever it is that you prefer, you won't struggle to find a busty escort that ticks your boob boxes at Rachael's Escort Agency.
Our Most Popular Busty London Escorts
At Rachael's London Escorts, you won't struggle to find the ideal busty babe for you. Whether you are looking for a cheeky blonde or a charming brunette, you will always be able to find a woman who takes your fancy. To help you find your ideal big breasted escort, we have listed three of our most popular girls below.
Addison - Addison is a stunning blonde who boasts draw dropping 34C boobs. From the moment you see her, you'll want your hands touching them and your face nuzzling them. Addison really is something special; she's tall, curvaceous and extremely sexy. We've never had a bad review about Addison and we can see why. After all, who would complain about spending some alone time with an escort as beautiful as her?
Diamond - You'll only need to browse Diamond's sexy selfies and videos for a moment or two before you are turned on, wanting more and more. Diamond has large, full boobs and an incredible body. Her long hair, pert bum and toned body is enough to have anyone wanting to see what's underneath her lingerie. You're sure to have a lot of fun exploring Diamond's body, and letting her explore yours.
Beauty - Beauty by name, beauty by nature. A quick glimpse at Beauty's topless photos and you will see why she's one of our most popular busty babes. There is nothing that Beauty won't do, and she likes sex just as much as you do. Whether you're looking to 69 or role play, you won't be disappointed by the sexy service that Beauty offers. Plus, she's recently uploaded selfies and videos for you to check out.
Find Your Dream Busty Escort in London
If you are looking to find your dream escort in London and it's the busty babes that you prefer, you have come to the right place. At Rachael's, you will find a whole host of gorgeous women to choose from. We pride ourselves on having something for everyone at Rachael's , and that includes big breasted women of all shapes and sizes. All you need to do is browse our escort gallery, choose your favourite girl and make a booking. Spending the night with a busty escort has never been easier, so what are you waiting for?