More hotels that our escorts love
02 February, 2022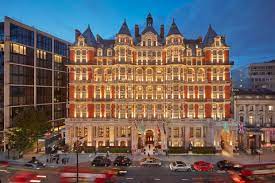 This is the second part to our very popular blog "The hotels the girls love"
So many of our lovely escorts have sent in the details of the hotels that they love to visit and the most important part is why, you see we can gain lots of information off the internet but we all love a first-hand account, I guess that's why sites such as Trip Advisor are so popular but we are giving you insight from escorts and I doubt that many review websites would let you see that.
First up to bat is Lea;
You would love it if Lea were to visit you are your hotel !
Lea's choice is a hotel that I would never have picked but she completely loves going there, lea tells us that the staff are so friendly, and the rooms are so nice. I have never stayed there but after talking with Lea I may have to give it ago;
London Hilton on Park Lane – 22 Park Lane, W1K 1BE, it's a 5 star and the building really does stand out.
The building is just so tall, its taller than ever other on Park Lane, the one thing that lots of people have told me about this place is the restaurant "Galvin at Windows" and that I must go there.
Well based on Lea's recommendation I shall be getting Rachael to make the reservation.
One of our most popular escorts Kylie
Loves the Mandarin Oriental Hyde Park – I would have said this is more Knightsbridge but what do I know? 66 Knightsbridge, SW1X 7LA.
Kylie loves this hotel and to be fair I had completely forgot about it, I haven't been there in more than 3 years but its back on my list, Kylie says that the moment you walk in this hotel you are in the lap of luxury – a bit like having Kylie walk into your life. The entrance, the lobby, the elevators, the rooms – Kylie last gave a full-blown dominatrix session in a room at The Mandarin, even the way the hotels staff say good to you!!!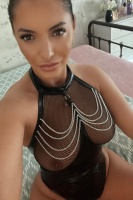 Wouldn't you love Kylie to visit your hotel?
I am really pleased that our girls have contributed to this blog!
Writing blogs for our escort agency website is hard work and to get more insight into what the very best London escorts experience is gold dust
Haifa came back with another hotel that she just loves.
Shangri-La The Shard, 31 St Thomas Street, SE1 9QU. Now this is one that I can get on board with have to agree whole heartedly with Haifa. The place is just amazing, if you are lucky enough for the pool to be empty late at night you can enjoy a naked swim looking out across London – come on!!! You have got to be a little bit naughty.
I myself – like Haifa am happy to report that I have had some very naughty nights here with ladies in very sexy lingerie and of course, very high heels – thats my thing!!! I doubt you will find an escort who looks better in a thong and high heels than mega busty Haifa!!!!
UPDATE Feb 2020
There is certainly no shortage of hotels in London; there is a hotel for every type of stay, every budget, every style and every preference. Whatever you are looking for in a hotel, you can certainly find the ideal accommodation option in London. However, this could lead to you being spoilt for choice. Choosing the perfect hotel in London can be difficult at the best of times, but more so if you are looking for somewhere to spend the evening with an escort. This is why we regularly ask our top escorts for their personal hotel recommendations. We want to know which hotels they love and why they love them. After all, our escorts are the ones in the know.
Karina and The Marylebone Hotel
Karina is a beautiful, busty and blonde escort. She is one of the top escorts we have to offer and it's easy to see why. Karina really is something special, and she's the 'go to' escort for a number of our clients. If you are looking for a passionate and sexy woman - one who does everything from face sitting to girlfriend experiences, from exploring fetishes to dressing up in uniform - you can't go wrong with Karina. So, which hotel does Karina like to go to?
Based in Marylebone, Karina is a regular around Central London. This means she has access to some of the city's top hotels, but it's The Marylebone Hotel that she favours. When we asked her about her favourite hotel, she didn't need a second to think about her answer.
Located on Wellbeck Street, The Marylebone Hotel boasts a central and accessible location. Within minutes you can walk to Bond Street Underground Station, Regent's Park Underground Station, Tottenham Court Road Underground Station and a number of bus stops. There are also a tonne of options for parking and drop off points for taxis, meaning you really can travel to The Marylebone Hotel in whatever way you like.
Karina regularly talks about how luxurious, chic and premium the hotel is. This is apparent from the outside, but it's boosted when you catch a glimpse of the impressive interior design choices. As a classy and charming escort, it's not surprising that Karina likes a hotel that offers something a little bit special.
We asked Karina what makes The Marylebone Hotel stand out from other hotels she has visited and she had a lot to say. Not only does the hotel have an indoor pool and delicious breakfast options, but it has top notch room service - which is perfect if she's having too much fun with a client to venture downstairs - and a fitness centre.
Karina hasn't known anyone to be disappointed with their stay at The Marylebone Hotel, and she's always keen to visit. It's her favourite hotel, one she loves to stay at and one she recommends to everyone.
I am going to continue to update this blog as the girls send in their recommendations and insights into the best hotels read the first part of this blog here