The most popular requests of our escorts
20 February, 2023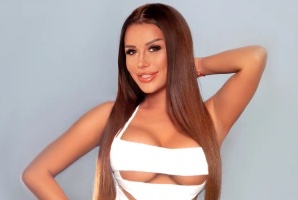 Just the other day a client asks "I have a strange request, would she be ok to do it" this set the reception teams mind going, what was the request going to be? How wired and wonderful was it? Would it be something that they would have to phone every escort up and ask? Would this even a massive call to action? What? They were sitting on the edge of their seats!
"Could the lady wear black stockings, suspenders and high heels".
That was it, that a daily request from James – "can you girls wear stockings, heels and a thong to the office".
"No"
Most Requested Ideas
Stockings, suspenders, and high heels – without a doubt the most asked for request, at least twice a day or reception team get ask this, don't worry gents pretty much evrey single escort in our gallery has a collection of stockings, seamed and fishnet. I think it's the boss / secretary act that most people like, couple it with a very sexy and high pair of black stilettos and you're off to a great start.
"Could she wear her nurses' outfit?" – we are not talking about a NHS nurse here, I can't imagine a lot of people loving that one but what I can tell you that people LOVE is the sexy white PVC nurse outfit that so many of the escorts have.
We advise all the ladies that wish to advertise on our site that uniforms are highly requested and that they should indeed keep a good and fresh selection of them – nurse, schoolgirl, secretary and flight attendant are all the most popular.
"Does she like to party?" – forgetting about the world outside is one of the main reasons that so many people like to meet up with open minded London escorts and we can't blame them. Relaxing from the outside would, a great party is the best way to do it, smiles and cheers all round!
"Can I see two ladies" – of course you can, we have a great gallery packed with some of the very hottest duo partnerships in London, blondes and blondes, brunettes and brunettes, blonde and brunette, all the bases are covered. One of the hottest duo pairings is Hailey and Pupi, two very sexy young escorts based in the Marylebone area of London.
"I want to watch my wife" – Asked for more than you could ever imagine, the ladies can't miss out on the fun, and we don't blame them. Our gallery of "women for women" has some very beautiful and open minded fully bisexual escorts in it, Babe is very popular amongst couples looking for a full bi woman, she is also extremely popular with ladies that want to see a lady on their own!
"Can she use a strapon on me" – the act of pegging is when a lady takes the man with a strapon or some sex toy, this is anally and stimulates the man's prostrate, sometimes (most times) leading to making him cum. The increase of this in porn films has spilled over to normal life. Don't worry gents there is nothing wrong with pegging, it's fun, its safe and its stimulating, more people than you realise enjoy this and that's why it is on this list.
"Rachael, can I take you out" – oh yes, time to make Rachaels head grow! At least once a day Rachael's gets ask out, it's that sexy voice of hers, it pushes men's buttons like you wouldn't believe! That could be the reason that so many of you keep coming back to our escort agency. The thought of getting to meet up with the famous lady herself?
"Can she not wear perfume" – you knew this one needed to be on the list and it's pretty obvious why of course the ladies are happy to comply.
Call and try out the team, see it they can match you up with a lady who does what you request
This list could go on and on but the above are the most popular requests and what best it our lovely escorts get to fulfil some many, they love doing it, remember they love being escorts, it's what they do, and these requests are pretty standard.
Rachael and the team will always pass your requests on, they liaise with each of the escorts on all the bookings and we aim to please as much as we can, remember not every lady can meet the request you would like but that's where our team come in, they know the girls, they can recommend girls for you to look at, ladies they know that will match your requirements.
Reading these got you in the mood for a lavish night with one of our girls or perhaps you think you can top these? Get in touch with Rachael's London Escorts on 02034106363 or our online bookings form!