Why Everyone Should Try A Threesome
13 May, 2022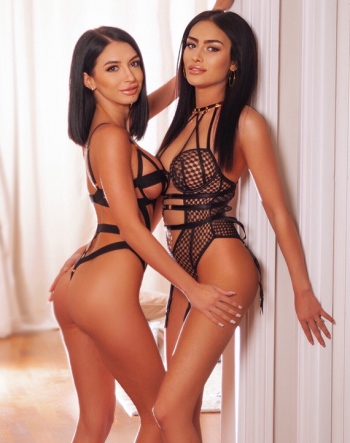 There is no shortage of things to try in the bedroom; there are toys, uniforms, dominatrixes, role plays and kinks to explore. However, the activity that continually comes up on top is a threesome. It's a dream for many people, and it's a lot of people's favourite thing to do in the bedroom. So, why haven't you tried one yet?
Whether you are looking to try a threesome as a couple and another person, or you want to try it alone with two strangers, you won't be disappointed by what a threesome has to offer. There's a reason it's one of the most popular bedroom activities, and soon you will see for yourself.
6 Reasons Why People Love Threesomes
If you are on the fence about whether or not to pursue a threesome, you are probably looking for things that will convince you to go ahead. At Rachael's London Escorts, we always encourage people to try new things in the bedroom. After all, how else will you know if a threesome is your sort of thing? You can enjoy a threesome as a couple or alone with two escorts, as long as you are able to find other willing participants. This isn't always easy and knowing where to look can be tough, which is why a lot of people enlist the help of beautiful escorts. Below, we have given six of the top reasons why everyone should try a threesome once in their life.
1. They're Naughty and Exciting - There is something naughty about a threesome, and it feels as though it's something you are forbidden to do. Though this isn't the case - if you ask the majority of people, they would actively encourage you to have a threesome - this does add an element of naughtiness, deviancy and excitement to the act. If this is something that you are into, you are sure to love the feeling of being bad by having a threesome.
2. Life's Too Short to Say No - When it comes to sex, life is short and you don't know when you're going to find that your sex life has come to an end. So, make the most of things now and enjoy a threesome. Though many people enjoy a wild sex life well into their seventies and eighties, things tend to slow down for most of us. Instead of regretting never trying a threesome, realise that life's too short and get stuck in while you still can.
3. It's a Case of 'More the Merrier' - There is no denying that sex is enjoyable and passionate with two people, so imagine how enjoyable and passionate it can be with more. Having an extra person in the bed instantly increases the amount of pleasure and satisfaction that's available. Not only is there another body to enjoy, but there are two more hands to ensure your ever sexual need is taken care of.
4. Variety Helps to Keep Things Interesting - If you are someone that believes in variety being the spice of life, you will agree that spicing things up in the bedroom is key to having a good time. Having a threesome is a fantastic way to try something new in the bedroom, and it ensures that boredom is the furthest thing from your mind. Whether you are enjoying a threesome as a couple or with two escorts, you will soon see just how many more options you have when playing as a three.
5. A Threesome is Fun, Fun and More Fun - If you speak to anyone who regularly enjoys threesomes, they are sure to tell you tales of just how fun the experience can be. Though a threesom isn't for everyone, the majority of people really enjoy being intimate with more than one person at the same time. Though sex is supposed to be passionate and intimate, it's also supposed to be fun and that's a box threesomes tick.
6. You'll Get Out of Your Comfort Zone - Trying a threesome is an excellent way to push your boundaries and get out of your comfort zone, something that's a major part of keeping your sex life interesting. A threesome is a good way to spice things up if you feel as though things are becoming boring, and it's certainly great for giving you a much needed sexual confidence boost.
If that's not enough to convince you to try a threesome, we don't know what will. Not only does a threesome allow you to experience double the pleasure with double the amount of people, but it's an effective way of getting out of your comfort zone. Instead of sticking to the same positions and the same partners, you can mix things up with a threesome and have a night to remember.
How to Organise a Threesome
A lot of people assume that organising a threesome is a difficult task and though it's by no means the easiest of things to do, it's not hard. However, it's not usually a case of heading to a bar and trying to meet like minded individuals. Simply, it's unlikely that you are going to randomly meet two people who are also looking for a threesome that evening. This is why a lot of people choose to book escorts for a threesome.
Booking escorts for a threesome is quick, easy and convenient. There's no need to spend hours looking for people who want a threesome, nor do you need to worry about being a novice. You can simply choose your two favourite women and let them take the lead. At Rachael's London Escorts, we have a tonne of gorgeous girls who are just as keen as you to have a threesome. Before you know it, you'll be in the throws of passion and fun with two stunning babes.