Let's take a deeper look at Foot Fetishes with an escort.
08 October, 2023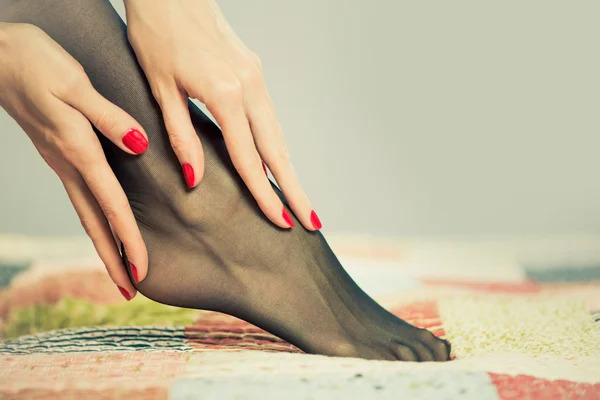 Foot fetish is very trendy amongst people who book time with escorts.
What is a foot fetish?
The foot fetish refers to a heightened sexual interest or attraction to feet, often accompanied by foot worship, toe-sucking, or foot massages. While some may find this fetish perplexing, it is essential to remember that human sexuality is diverse and encompasses many desires. In this blog, we will explore why foot fetishes are so popular, examine the appeal for both men and women, and discuss how people engage with this particular fetish.
What is a foot fetish escort?
A foot fetish escort is a lady ( or man) who specialises in making the client worship their feet; they will have taken extra care in maintaining their pretty feet to ensure that your experience with a foot fetish escort goes to plan. In London, many beautiful escorts offer this as part of their likes.
Power dynamics and submission play a vital role in some foot fetish scenarios. The escort and her client can enjoy these roles, as engaging with a lady's feet can create a sense of control or vulnerability. The power dynamics associated with foot fetish play to appeal to individuals who enjoy exploring dominance or submission within their desires.
What are the costs of seeing an escort who specialises in foot worship?
The choice of escorts to see at this escort agency is very diverse, and so is the cost; listed in our galleries, you will find ladies available from £150 for 30-minute incall bookings to others charging £3500 per night, both incall and outcall options are available.
Will the escort do more than just a fetish service?
So many ladies have many likes; take Yasmin, for example. Not only is she a massive fan of having her toes worshipped, but she is also a very skilled hand at providing the perfect GFE. Sheena tells us she loves introducing roleplay into any foot fetish scenario.
Foot fetish at our escort agency.
Our galleries are full of escorts catering to all types of likes and kinks, and foot fetish or foot worship is the same. When you call to book the time with the lady of your dreams, please specify to the reception team that this is what you seek, and they will rely on your chosen escort.
It's so much fun exploring your fetishes and fantasies with no judgemental and open-minded partners that we can't see why you would try this with anyone else.
For those interested in exploring foot fetishes more intimately, engaging with an escort who offers foot fetish services can be a viable option, and you will find many of them listed here.
These professionals provide a safe and non-judgmental environment for individuals to indulge their desires. When seeking an escort who caters to foot fetish activities like foot worship or toe-sucking, it is crucial to communicate your interests openly and respectfully.
How to get the most out of your experience with an escort who loves foot fetish.
Finding an escort who shares your interests and boundaries will ensure a fulfilling experience for both parties.
When engaging with an escort for foot fetish activities, it is essential to establish consent, clear communication, and mutual respect. Following these guidelines will create a safe and enjoyable environment for you and the escort.
• Be polite.
• Precisely explain what the turn-ons are for you.
• Ensure the escort is happy to let you worship their feet.
• Set boundaries for where both your limits lay.
Many people love seeing a lady's feet through their high heels, maybe even kissing, licking, and much more. Feet can be aesthetically pleasing, especially when well-maintained and adorned with attractive footwear. The elegance of high heels, delicate arches, and smooth skin can be visually appealing, making feet an object of desire for individuals of all genders.
Soft soles and sexy painted toes are such a turn-on.
Many aspects apply to a foot fetish, and people can get aroused by different elements of the feet.
Foot fetish expert Erina tells us, "One of my clients, he used to like rubbing the balls of my feet, that was it, an hour of just laying there, getting my feet rubbed. It was heavenly. He didn't even want to cum"
Others find the toes sexy, be they painted one colour or another, red is always trendy for a sexual elegant whereas pink brings out more of a gfe in the time.
'It all depends", says Rosaline when speaking about her vast experience offering foot fetish escort services in London. "Some play with your ankles as well".
What colour of toenail polish is the most popular amongst the escorts?
The colour of the ladies' toes plays a massive part in many foot fetish scenarios, and clients have been known to request scarce colours – a particular shade of red, at the drop of a hat, but because our escorts are experts in foot fetish play they can cater for them.
Red – is, without a doubt, the most requested colour and signals fire and passion.
Black - is a very close second, and another that suggests that something naughty will go on with you and your London escort.
Light pink - is a chilled-out colour, perhaps something your girlfriend would wear.
Bright yellow – you meet a girl at a rave once, and the desire stuck with you.
The best foot fetish escorts to see at our London Agency.
If you wish to see one of the ladies, the choice is vast, but here are three with the most fantastic feedback on the foot fetish experience they provided.
Please get in touch with our reception team if you wish to book any of the three ladies.
Barefoot Or Stocking Clad?
Another question always raised is, "Does (the escort) have fishnets?" There is so much pleasure delivered by so many at the thought of a very sexy woman having her foot in a stocking – perhaps rubbing her companion's leg under the cover of a table at one of London's best restaurants. Or her foot wedge firmly in his mouth as she rides her in missionary – you see the ideas are very sexy!